About
Jonathan Kay is a 21st century Fool. He brings a breath of fresh air whilst his feet are rooted firmly on the ground. Jonathan has refined his foolish work by meeting audiences around the world within their cultures, to create 'conversations' that lead to hilarity or introspection in the adventure of Theatre.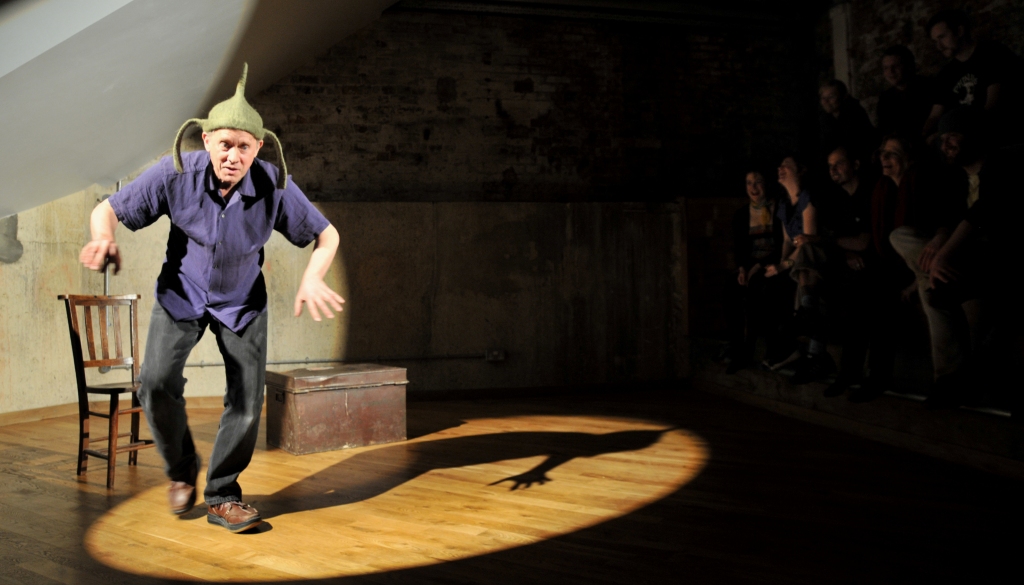 Kay is recognized as a leading teacher of Fooling, having toured in the USA, Canada, Australia, Spain, Bosnia, Jordan and the UK. He see this art form as inclusive, a way of including both the 'real' world of the audience and the 'imaginary' world of theatre. He takes his audience on a journey into the human experience using paradox, taking licence with the dark and light aspects of life.
"Making them laugh at themselves to understand themselves. It is what a good fool is supposed to do!" -The Guardian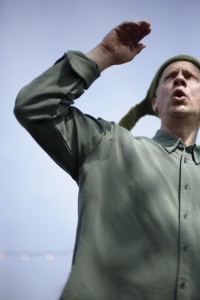 By nature a Fool is indefinable, living outside the realm of the known. A Fool is a mirror, a flip side, an alternative way of looking at things, and Jonathan is a highly experienced practitioner of this form of theatre.
He will play your Fool, and by doing so, helps to breathe life into imaginations locked away, resuscitating the fool that lies sleeping in the audience. Jonathan makes anything or anyone in the audience remind us all that we are more than our roles.
He can be found headlining Glastonbury Festival's Theatre and Circus field, Secret Garden Party, Brighton Fringe, the Edinburgh Festival or you can always invite him to the environment that you are in, whether this is your business, village hall, theatre, place of work or your home.
        "The ultimate theatre of possibility!"  – Time Out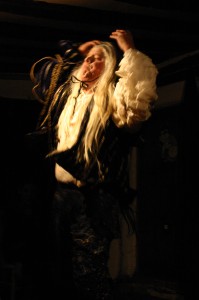 For a generation brought up on passive pastimes and TV dinners, this work can be mind blowing stuff.  If you have never seen a Jonathan Kay show before, it is an open door to the imagination, the familiar and yet it is nothing like you have ever seen before. Jonathan's Fool brings a truly unique and personal experience. His show is interactive, playful, shocking, reality bending and is often very, funny.
Jonathan also runs an annual programme of workshops, as well as the year long Nomadic Academy of Fools, training people from all walks of life in his unique Fooling technique.
"Jonathan Kay is one of the most inspiring and free-thinking theatre practitioners I have ever met. He is a unique, genuine and natural communicator. A one off. As a teacher and a performer, he is funny, frustrating and challenging all at once. He cuts through pretension, contrivance, cliché' and ego. There was no hiding place. I learnt a lot from him. I would urge anyone to sign-up to his courses and to see his shows. He is a philosopher, a fool and a much needed voice of sanity."

– Jeremy Stockwell, RADA
Jonathan's stomping ground, his field of action, the place where you will find him, is on the cliff between inertia and speed encouraging participants to fly or to learn how to land, not only in their imagination but also in their purpose. He helps participants to look at those hypothetical anchors that can tie people down for a life time, engaging them in a compassionate, humorous and sometimes challenging way so they liberate themselves, turning what appears to be valueless into gold.
Jonathan lives with his family on a farm near Glastonbury, Somerset.